In my splendid global, I'd spend all summer time enjoyable on a daybed overlooking the Mediterranean, catching up on my Goodreads queue, and simplest leaving the villa to select up necessities like herbal wine and contemporary pasta. I'd are living in unfastened, white linen pajama units and flowy coverups. A suntan, constant hydration, and entire nights' relaxation would change my make-up bag. Although my utility for Italian coastal residing continues to be pending, I've already got to work on my fable cloth wardrobe of breathable, unfussy warm-weather garments splendid for sleeping off right into a mid-afternoon shut eye with my finger nonetheless sandwiched between two pages of my present novel. These days I could also be doing my summer time studying from a fireplace get away with a sweeping view of an deserted lot, yet it is going to be in top rate loungewear. Right here, I've accumulated a couple of of my favourite loungewear items for luxuriating—even supposing the one cool breeze kissing your pores and skin is from a leaky window unit.
Line Shorts Ivory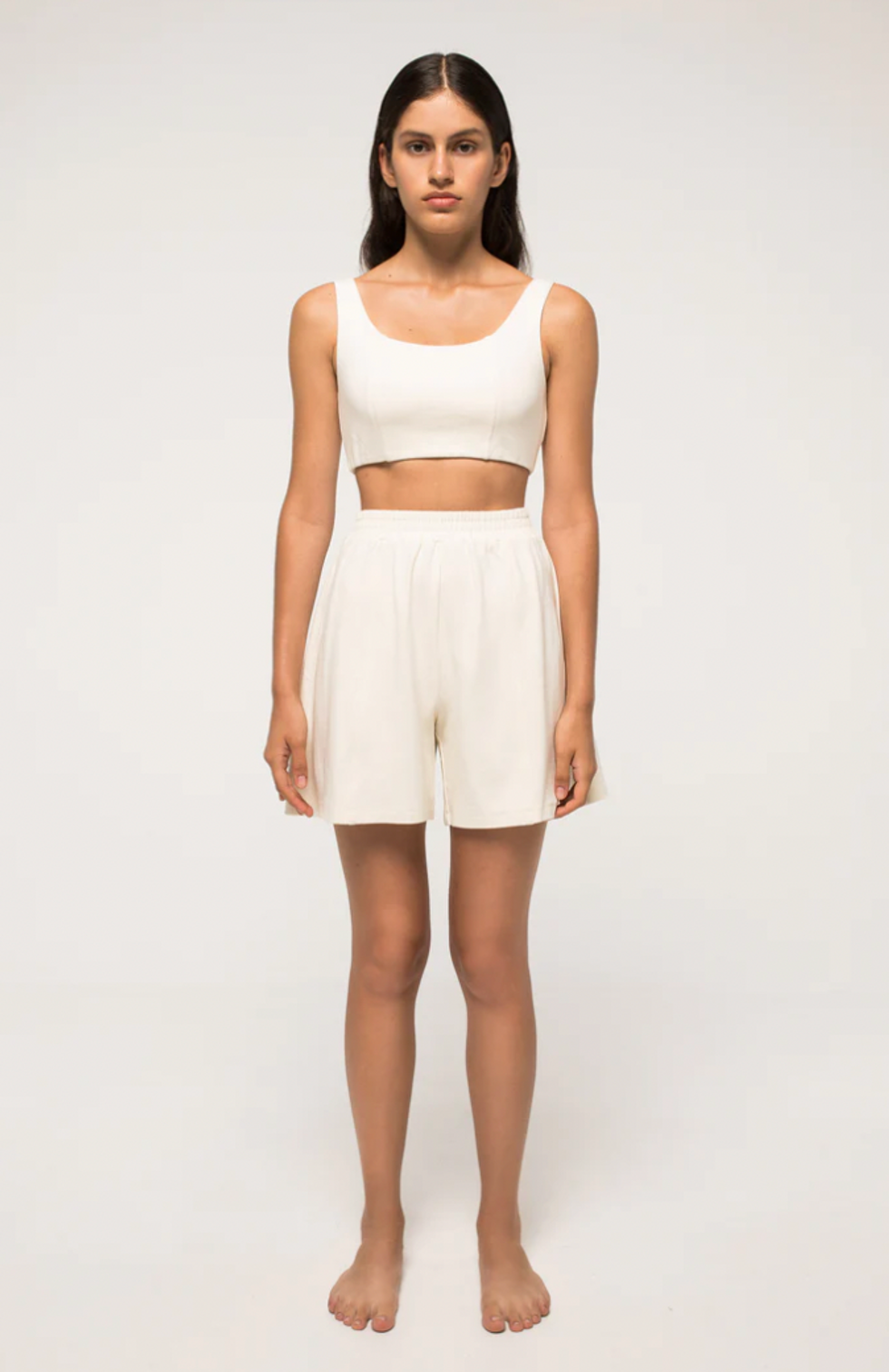 Norba is a Ukrainian activewear and necessities logo based by means of two sisters, Olha and Helen Norba. Their garments are utilitarian of their minimalism whilst keeping up the sense of simple magnificence on the logo's core. I'm lately obsessive about their line of loungewear fabricated from tencel—a gentle, sustainable cloth possibility. This white set is highest for days when it's too sizzling to depart the home. Simply throw over an outsized button-down for a nightfall canine stroll or wine run.
Norba
Daffodil PJ Set
This PJ set is just too lovable to be relegated to the bed room. Pair it with sandals and a basket and also you've were given the easiest farmer's market-to-park outfit. Whilst this set is fabricated from cotton, Saylor is usually a sustainably-minded logo with a "Complete Circle Store" that permits you to store and promote used Saylor clothes.
Saylor
Epsilon Ursae Get dressed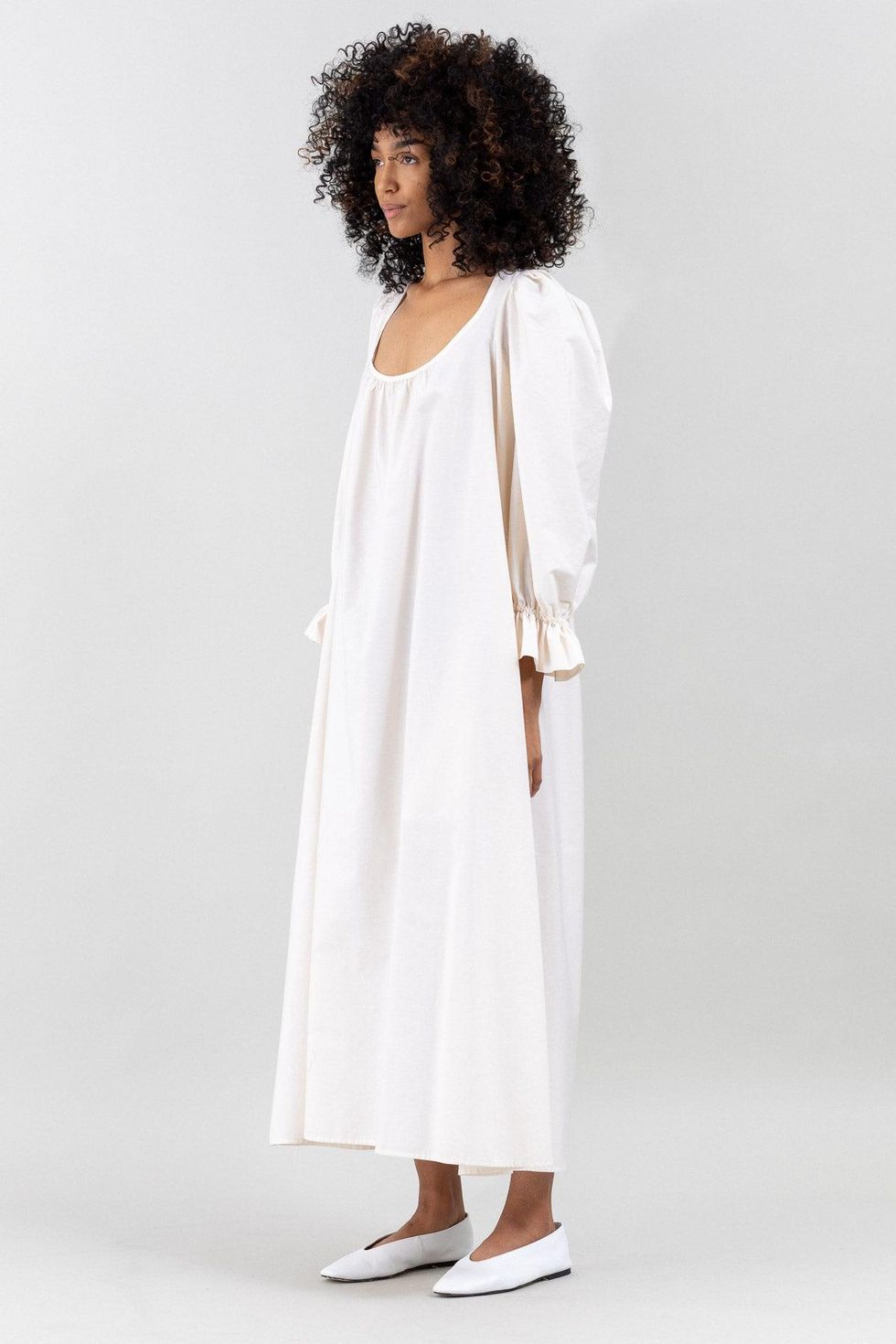 Ultimate summer time, I used to be residing with a roommate whose whole summer time taste consisted of outsized Victorian nightgowns, and I'm beginning to assume she was once onto one thing. They're extremely relaxed for round the home, and with the proper styling, they appear fabulous in town. I like this one by means of Toit Volant a) as a result of it is lovable and b) since the logo makes all in their clothes in their very own manufacturing unit in Los Angeles.
Toit Volant
Elon Comfy Rib Jumpsuit
This unfastened jumpsuit has Zoe Kravitz in Giant Little Lies written far and wide it. Product of a gentle, breathable, biodegradable rayon knit, it seems to be extremely relaxed and stylish in a laidback, yoga mother means.
Eberjey
Linen Living room Go well with in Red
Sleeper is every other Ukrainian logo I like, and this crimson linen set is the cutest. It's what Sharpay Evans would put on if she went thru a granola section and may paintings with anything else from a heeled sandal to a cowboy boot.
Sleeper
Sabrina Get dressed Poppy Sustainable
This get dressed is shiny, lovable, and necessarily a gown. Made out of triacetate—a sturdy, wrinkle-resistant, semi-synthetic subject matter this is extra sustainable than its totally artificial opposite numbers—it is a nice possibility for throwing for your suitcase en path to somewhere fabulous at the water.
Ciao Lucia
Orion Bodysuit
Reside the Procedure does athleisure proper. This little jumpsuit is as excellent for day lounging on a chaise as it's for a day exercise and is exclusive sufficient to make a remark whilst out. If you're a yoga pants girlie who needs an elevated-but-effortless glance, this one is for you.
Reside the Procedure
window.REBELMOUSE_ACTIVE_TASKS_QUEUE.push(function(){
var makeMonitor = (getStatus, cb, delay) => { delay = delay || 100; var monitor = () => { var time = +new Date(); var status = getStatus(); if (status) { return cb(status); } else { if (!stopMonitor && +new Date() - time < 30 * 60 * 1000) { monitorId = setTimeout(monitor, delay); } else { cb(false); } } }, cancel = () => { stopMonitor = true; clearInterval(monitorId); }; let monitorId, stopMonitor = false; return { start: monitor, cancel: cancel, }; };
var leftArrowCarrousel = makeMonitor( function () { return document.querySelector( ".shop-sidebar.shop-posts .posts-wrapper .slick-next" ); }, function (res) { res.addEventListener("click", () => { gtag("event", "Left Arrow Click", { event_category: "Shopping Module", event_label: "Previous product at carrousel", }); }); } );
leftArrowCarrousel.start();
var rightArrowCarrousel = makeMonitor( function () { return document.querySelector( ".shop-sidebar.shop-posts .posts-wrapper .slick-prev" ); }, function (res) { res.addEventListener("click", () => { gtag("event", "Right Arrow Click", { event_category: "Shopping Module", event_label: "Next product at carrousel", }); }); } );
rightArrowCarrousel.start();
var buyButton = makeMonitor( function () { return document.querySelectorAll( ".shop-sidebar.shop-posts .posts-wrapper .widget__product-buy-link-btn" ); }, function (res) { for (let button of res) { button.addEventListener("click", () => { gtag("event", "Buy button click", { event_category: "Shopping Module", event_label: `${button["href"]}`, }); }); } } );
buyButton.start();
var imageShopp = makeMonitor( function () { return document.querySelectorAll( ".shop-sidebar.shop-posts .posts-wrapper .widget__head a" ); }, function (res) { for (let image of res) { image.addEventListener("click", () => { gtag("event", "Image click", { event_category: "Shopping Module", event_label: `${image["href"]}`, }); }); } } );
imageShopp.start();
var productTitle = makeMonitor( function () { return document.querySelectorAll( ".shop-sidebar.shop-posts .posts-wrapper .widget__headline .widget__headline-text" ); }, function (res) { for (let product of res) { product.addEventListener("click", () => { gtag("event", "Product title click", { event_category: "Shopping Module", event_label: `${product["href"]}`, }); }); } } );
productTitle.start();
});
window.REBELMOUSE_ACTIVE_TASKS_QUEUE.push(function(){
window.REBELMOUSE_STDLIB.loadExternalScript("https://s.skimresources.com/js/150311X1615657.skimlinks.js", function() {
});
});
window.REBELMOUSE_ACTIVE_TASKS_QUEUE.push(function(){
!function(f,b,e,v,n,t,s){if(f.fbq)return;n=f.fbq=function(){n.callMethod?n.callMethod.apply(n,arguments):n.queue.push(arguments)};if(!f._fbq)f._fbq=n;n.push=n;n.loaded=!0;n.version='2.0';n.queue=[];t=b.createElement(e);t.async=!0;t.src=v;s=b.getElementsByTagName(e)[0];s.parentNode.insertBefore(t,s)}(window, document,'script','https://connect.facebook.net/en_US/fbevents.js');fbq('init', '1248680838922690');fbq('track', 'PageView');
});
window.REBELMOUSE_ACTIVE_TASKS_QUEUE.push(function(){
window.REBELMOUSE_STDLIB.onElementInViewport({ threshold: 400, selector: "video", oneTime: true, onIntersect: function(entry){ var element = entry.target; element.setAttribute("allow","autoplay"); element.loop = true; element.muted = true; element.autoplay = true; element.setAttribute("playsinline","true"); //element.controls = false; element.play(); } });
});
window.REBELMOUSE_ACTIVE_TASKS_QUEUE.push(function(){
let modDate = new Date (document.querySelector('.current--post .social-date-modified__text').textContent); let createDate = new Date (document.querySelector('.current--post .social-date__text').textContent); let m_names = new Array("January", "February", "March", "April", "May", "June", "July", "August", "September", "October", "November", "December");
function dateToMDY(inputDate) { var d = inputDate.getDate(); var m = inputDate.getMonth(); var y = inputDate.getFullYear(); return '' + m_names[m] + ' ' + (d <= 9 ? '' + d : d) + ', ' + y ; } document.querySelector('.current--post .social-date-modified__text').innerText = dateToMDY(modDate); document.querySelector('.current--post .social-date__text').innerText = dateToMDY(createDate); }); window.REBELMOUSE_ACTIVE_TASKS_QUEUE.push(function(){ let headings = document.evaluate("//p[contains(., 'Want more stories like this?')]", document, null, XPathResult.ANY_TYPE, null ); let thisHeading = headings.iterateNext(); console.log(thisHeading.textContent, 'head changed'); thisHeading.innerHTML = "More From Coveteur"; thisHeading.style.fontFamily= 'Playfair Display'; thisHeading.style.fontSize="24px";
});